A staircase in a multi-story house is not just a decor item but a necessity. Actually, a staircase is among the most complex elements of the interior to design and build as safety, durability, space, and interior style should be taken into consideration to get functional yet good-looking stairs.
What are the 11 types of home staircases?
Whether you plan to construct a staircase while building a new house or remodel stairs, you might be surprised by the impressive variants available to homeowners. Below you'll find a description of the 11 varieties of home staircases.
Traditional Staircases
Straight staircases. Well, as the term suggests, a straight staircase represents a flight of steps arranged in a straight line. The straight type is often asked-for and is relatively simple to build. Straight staircases aren't always functional for some floorplans, though.
L-shaped (Quarter-Turn). This type features 2 stair spans connected at a 90-degree angle at a landing. In fact, L-shaped varieties are a perfect fit for corners. If the space is narrow, and you prefer a classic look, think of installing an L-shaped staircase.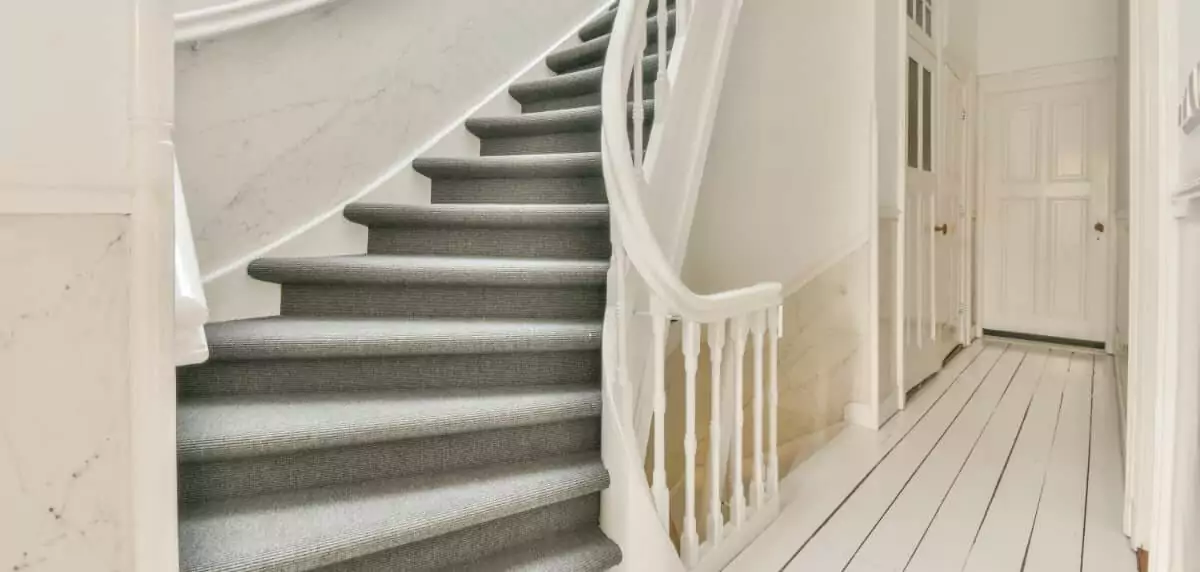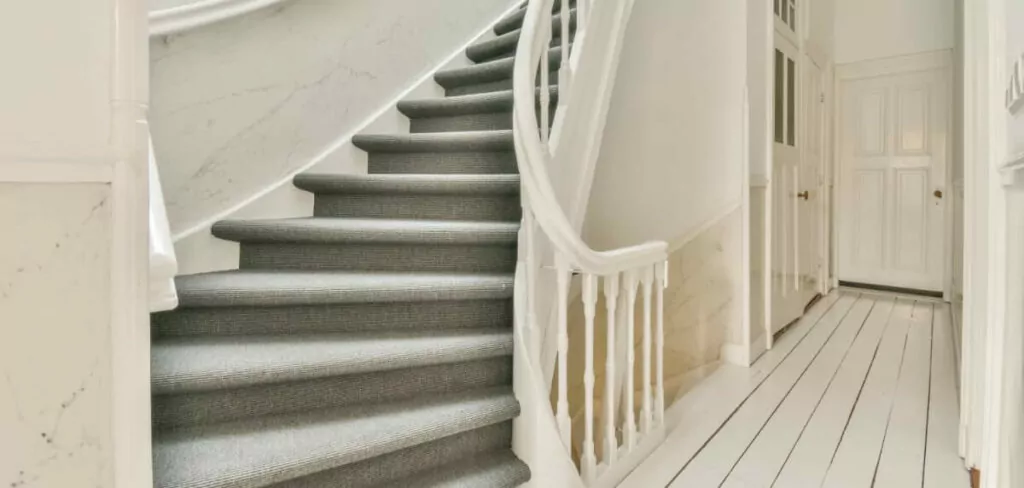 Glass and Transparent Staircases
Glass staircases provide an airy and innovative look to any home or commercial building. A variety of textures and colors (matt or transparent) allow the creation of a true masterpiece. Stairs made of tempered glass for increased durability and accented with wooden or metal elements can make almost any interior stunning. However, note that glass staircases might not be the best option for houses with heavy traffic, as they need regular maintenance and safety inspections.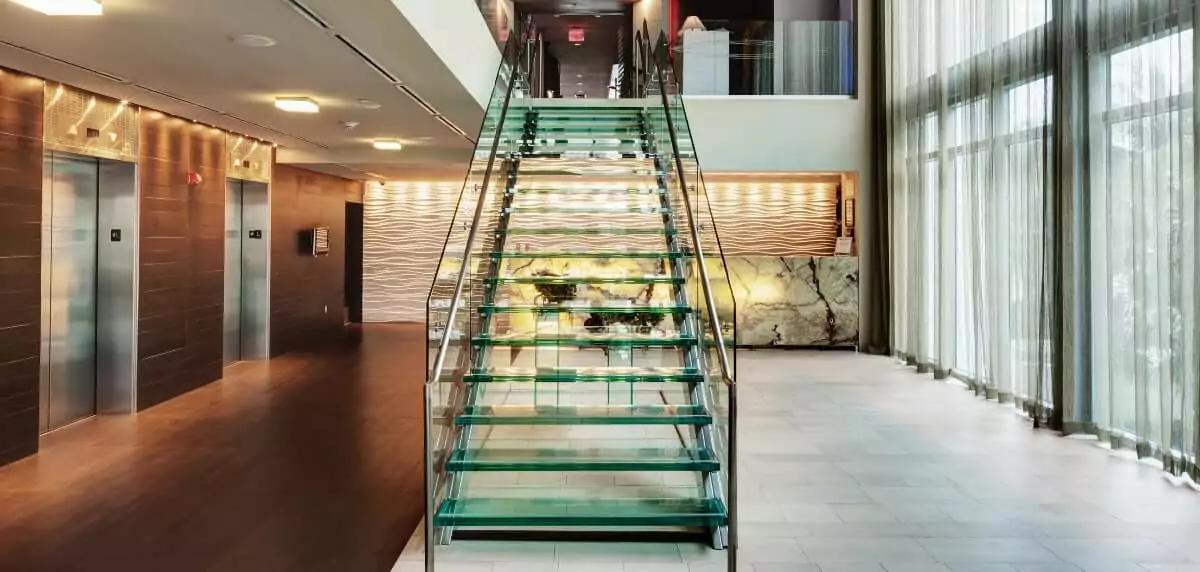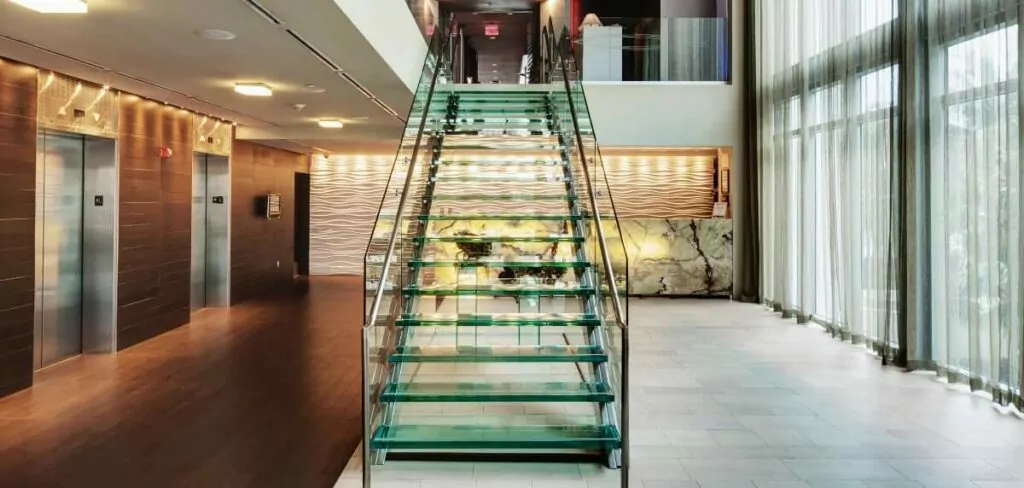 Floating (Open) Stairs
Open stairs ensure a very stylish and airy look since the space between treads is left open. As a rule, floating staircases are installed into walls to ensure a minimalist feel.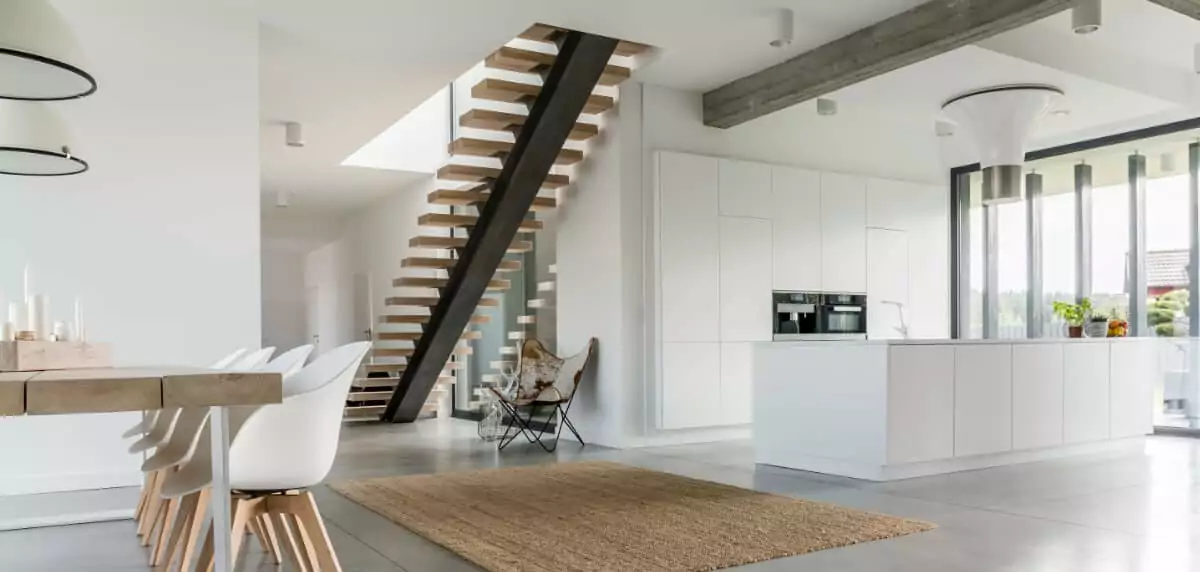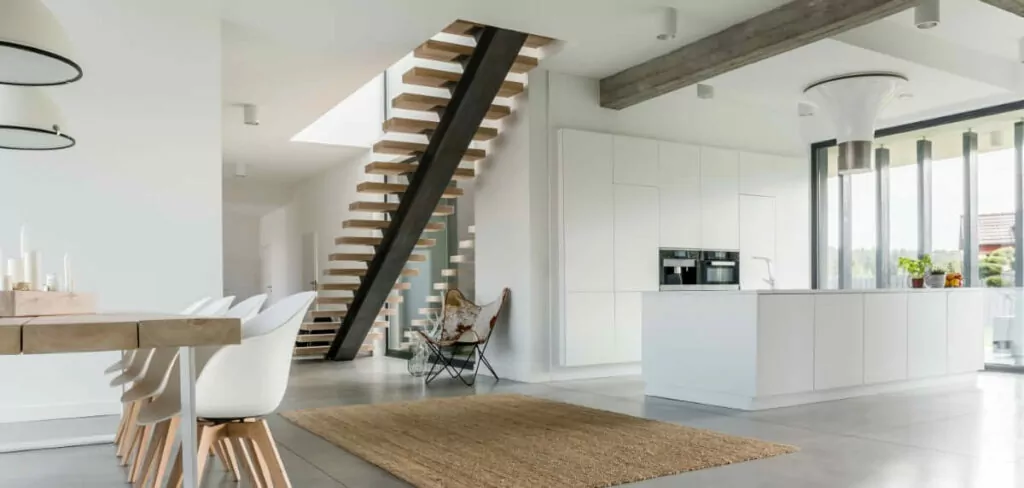 Bifurcated staircases
If you are a lucky owner of a spacious house or even a mansion, you might consider the premium option — a bifurcated staircase. A broader flight of rungs branches into 2 narrower passages heading in 2 different directions. Yes, space-taking yet glamorous.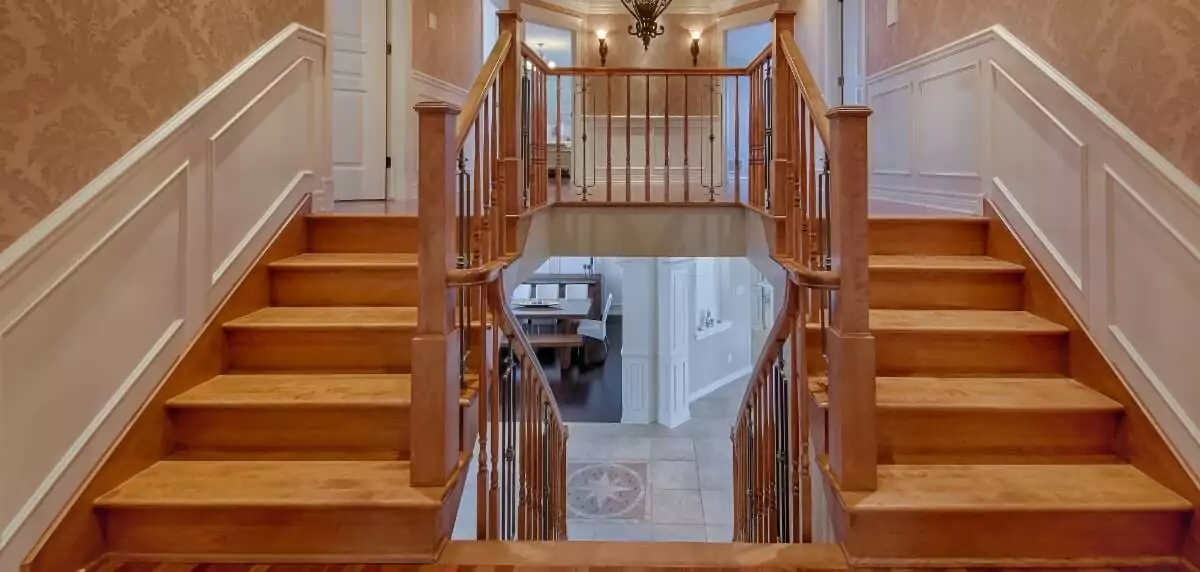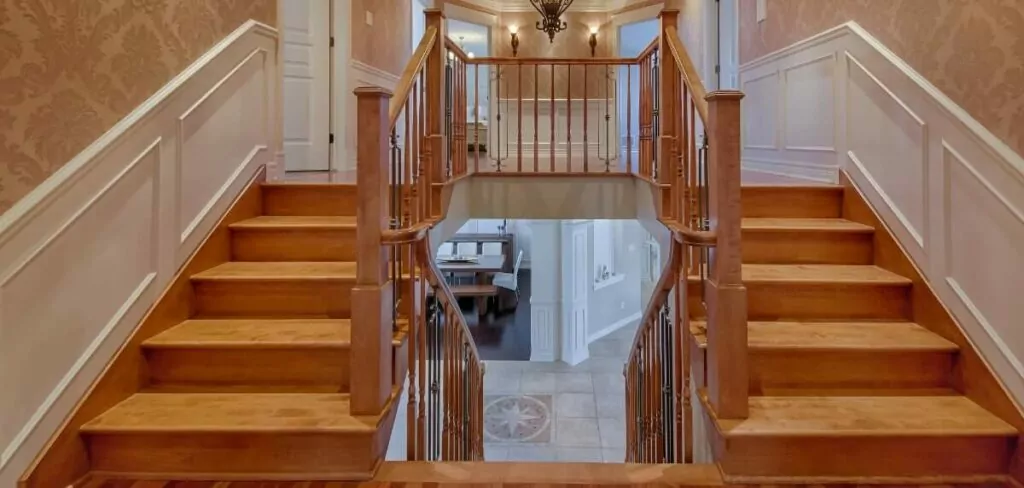 Staircases for Limited Space
Spiral. Very unobstructed, they can fit tight spaces as they are centered around a pole. A downside of this type is that they aren't easy to climb. Hence, if you have elderly family members you'd better opt for traditional designs, such as straight or L-shaped.
U-shaped. Often addressed as switchback/half-turn, U-turn staircases generally consist of 2 spans wending in different directions. Thanks to a landing that connects two stair spans, the staircase looks exquisite.
Attic stairs. Attic ladders can be pulldown (or telescopic), scissors, or folding. The decision on a mechanism depends on the opening size and space. Made of wood, steel, or aluminum, the choice of an attic ladder is determined by your requirements and the functionality you need.
Space-saving stairs. Whenever you want to redo the staircase to free some space, think of the following space-saving stair options:
Winder is a cousin of the L-shaped variant – a landing is replaced with a cluster of winders to save space.
A curved staircase represents another variation of the winder and L-shaped options but with no landing. In this design, stairs repeat the bend of a banister.
Storage stairs incorporate the area below the footboard to utilize and make functional every single inch. A storage space can be designed as cabinets or open shelving or include a combination of a seating nook, mini-closet, and shelves.
What is the cost of remodeling and installing a staircase?
Final costs of staircase renovation range considerably as they depend on the remodel scale and material qualities, anywhere between $300 and $30,000 with the average cost to redo stairs of around $2,000. Replacing the outdated staircase with a new one will cost from $1,500 to $10,000 with an average of $2,500 – $3,000.
If essential updates are fairly inexpensive, a full staircase makeover generally costs between $4,000 and $9,000. Actually, costs can be higher if you opt for custom design and premium-grade materials.
Every project is unique, so for a more precise estimation, request a free quote from Groysman Construction, a remodel company in San Diego. We manage renovations of any complexity, from a stair railing remodel to a full staircase replacement. We'll evaluate space restrictions, desired functionality, layout, and budget to advise on the best solution. With over 20 years of experience, the Groysman team has the expertise, skills, and equipment to create a design magazine-worth staircase.