The kitchen is not merely a place for preparing meals and washing dirty dishes. Essentially, the kitchen is the soul of any home that provides a cozy ambiance for discussions, celebrations, and communications. Each homeowner wants their kitchen to be functional, yet tasteful and gorgeous. In this guide, Groysman Construction shares professional kitchen layout tips to empower your remodeling project and help you avoid pity mistakes when it comes to kitchen renovation.
Where should a kitchen be located in a house?
The question may sound bizarre to some homeowners as they do not intend to move the existing kitchen from its location. However, if it is going to be a comprehensive home renovation or even a new construction from a scratch, it is up to you to select the location of your "sacred corner", and you should approach this question with much consideration.
The traditional location assumes a kitchen to be a full-fledged, separate room. But modern hosts adore twisting from conventional solutions and eagerly prefer their kitchens to be of a broken-plan when a kitchen segues to a lounge or dining space for added sophistication.
Still, such a disposition will easily provide for the spread of smelly culinary odors throughout the house, which is highly indesirable. A folding door between the kitchen and the dining room will help avoid such situations. When such a door is open, it helps to create a feeling of unity between the kitchen and the dining room, and when it is closed, it prevents smells from the kitchen from entering the rest of the home.
Many homeowners try to arrange a kitchen on the first floor, so that it easily connects to the outdoor entertainment area like a terrace or a patio, therefore enhancing the functionality of both places.
If you plan to install floor-to-ceiling cabinetry, place it against that side of the kitchen that will receive the least amount of natural light to ensure your space gets enough natural illumination when you design your new kitchen.
What is the ideal kitchen layout?
When you have determined the position of a kitchen in a new home or just decided to keep it in the current location, you can proceed with choosing an optimal kitchen layout. If only you do not plan it to have an extraordinaire, intricate, custom-made layout, your possible options will revolve around the following.
Single-line
Such an arrangement means that the whole kitchen is placed against one wall. This layout is suitable for a long, yet quite narrow kitchen. The linear placement is optimal for those who want to enjoy more space for the dining zone. With such a layout, one wall remains completely free, where you can place a table and chairs.
The main disadvantage of a single-line kitchen is that the total area of the working surface is not so large. With linear kitchens, it is hard to arrange the perfect working triangle (stove-sink-refrigerator).
When planning a single-line kitchen, you need to ensure that the sink, stove, and fridge are not close to one another. If possible, they should be separated from each other by cabinets. The cooking surface and the oven must not be placed close to the refrigerator without additional thermal insulation.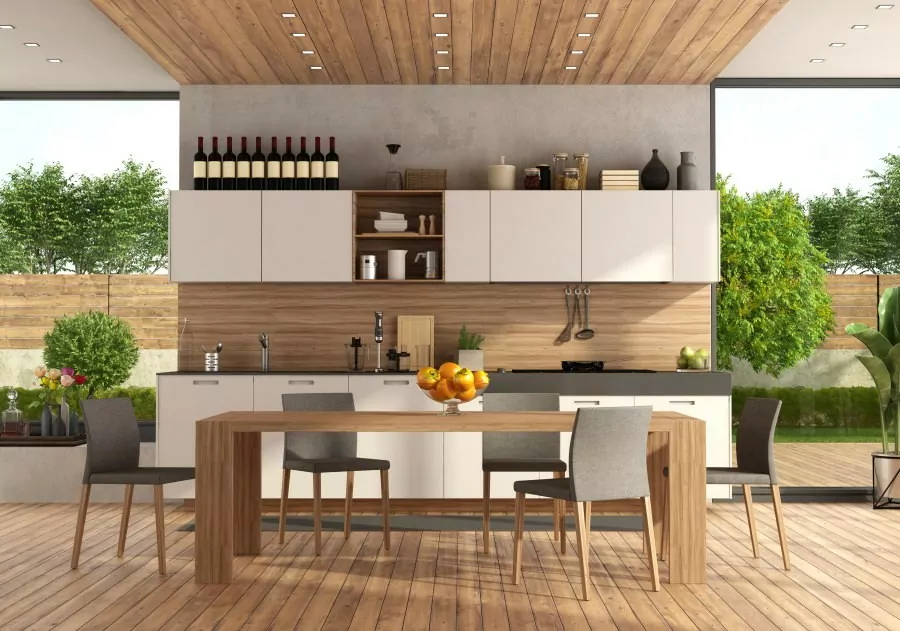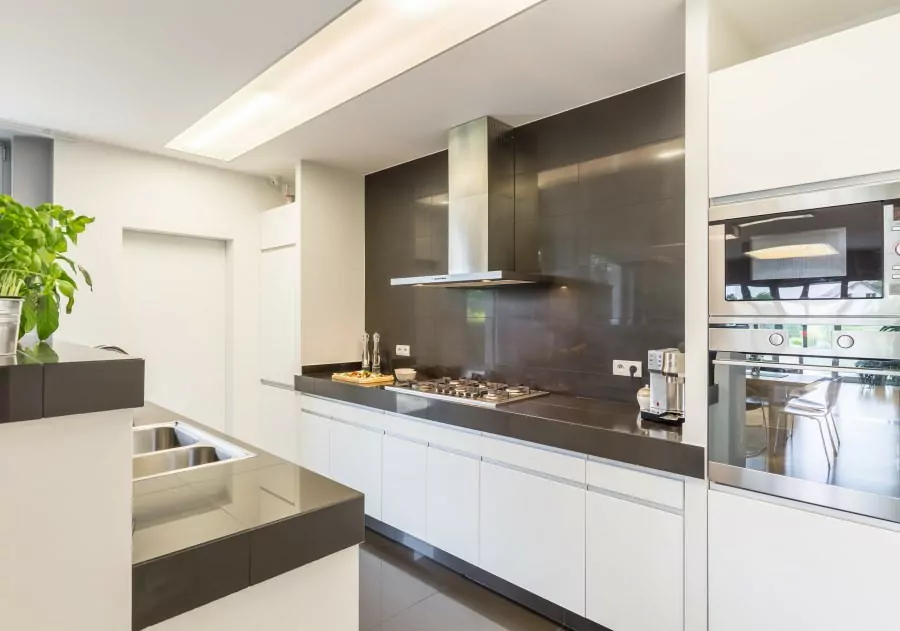 Parallel
A parallel (two-line or two-row) layout is when two rows of cabinets are placed along two parallel walls with enough distance between them. One row of kitchen cabinetry is generally shorter than the other, carving out more space for a dining area. The parallel layout is a good solution for a narrow prolonged kitchen.
Two-row kitchens come in two types: walk-through or corridor (when the kitchen also serves as a corridor through which you can get to other rooms) and non-walk-through (the room ends with a wall with or without a window or an entrance to the terrace, inner yard).
The optimal distance between the rows is 120-150 cm. This is exactly the amount of space you need to avoid kitchen traffic flow problems, easily open cabinet doors, pull out drawers, and effortlessly use big appliances like an oven and a dishwasher.
U-shaped
The U-shaped kitchen is a layout in which kitchen cabinetry, appliances, and storage systems are located along three adjacent walls. Often one of the sidewalls of a U-shaped kitchen is made as a kitchen island or a bar counter.
The U-shaped layout is universal and suitable for almost all types of kitchens (with the exception of a very narrow and elongated kitchen less than 2.4 meters wide). The sink, stove, and refrigerator are located close to each other, and all activities can be done practically standing in one place.
For the most efficient and comfortable exploitation, the length of parallel lines of the U-shaped kitchen should not be longer than 150-200 cm while the distance between the parallels should not exceed 250 cm.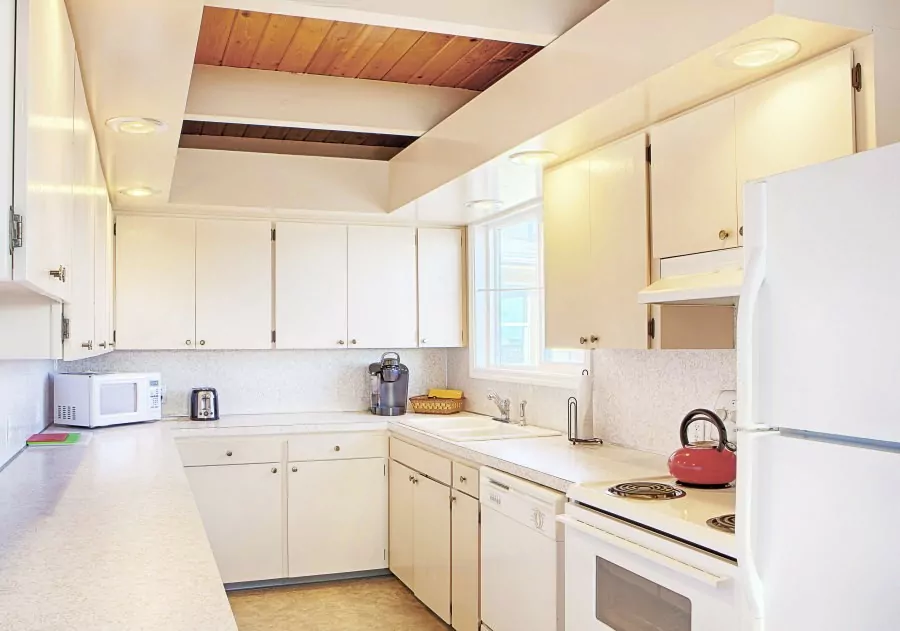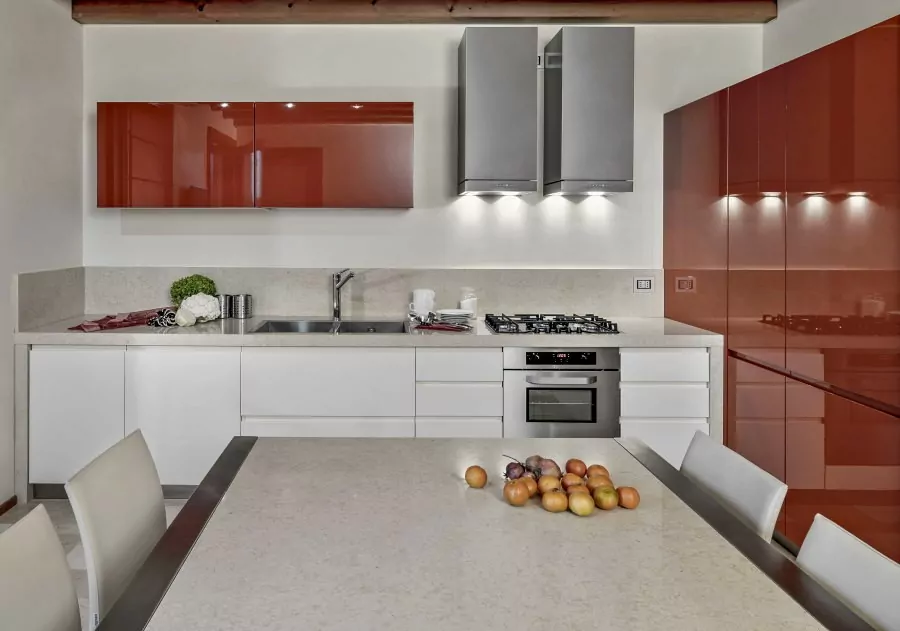 L-shaped
The corner (or L-shape) is the most popular kitchen layout, in which furniture is located perpendicularly along two adjacent walls. Such placement works well for medium-sized and small kitchens because it provides for the maximally effective use of the space.
The L-shaped design allows putting the fridge, sink, and stove according to the triangle rule – at an equal distance from each other. This will save you much time and effort: cooking is easier and more enjoyable when everything is within the hand reach.
Corners generally do not find much application in modern homes, but it is not the case with an L-shaped kitchen when the corner is fully used, for instance, for placing a hob/cooking surface or a dishwasher or for storing dishes and other kitchen stuff.
Such a layout leaves plenty of space to arrange a dining or lounge zone. You can place a sofa, table, and chairs along the other two walls where the folks can gather.
With an island
A kitchen island is a free-standing piece of furniture, a large cabinet, or table, most often located in the center of a room. The kitchen island is the best way to arrange the working triangle "sink – stove – table". An island allows for mounting a cooking surface or a sink. In addition, the island can be used as the main work area, as a dining table, or a bar counter – the final application depends on the design project.
The minimum size of a room for such a layout is from 15 sq. m, but this design looks at its best in larger spaces of nearly 25 sq. m. At the same time, the distance from the island itself to other cabinets should be, at least one meter, otherwise, it will be inconvenient to move around the room, not to mention the fact that it will be pretty inconvenient or even impossible to open drawers and doors.
Expert tips when planning a kitchen design
When renovating a kitchen, too many factors should be given proper attention. From the number of family members, cooking routines, and necessary appliances to peculiarities of lighting, piping, ventilation, and overall lifestyle habits, there is enough to consider and plenty of room for making a mistake. To avoid any frustration and make sure your kitchen renovation project meets your personal definition of a dream, it is always a wise move to hire a professional, well-established remodeling contractor to help you bring your concept to life. Groysman Construction is a well-established remodeling company in San Diego that can help you transform your old kitchen into a beautiful, functional, and unique area that will make a statement of your taste and add significant value to your property.