When you are remodeling your home in San Diego, you surely want the eventual result to have an artistic WOW factor that will please your eye, showcase your refined taste, and boost the market value of your property. 3D tiles can perfectly cope with these tasks. A rising trend in home decoration art, three-dimensional tiles never fail to bring sophistication and specialness to your interior.

3D tiles for wall outfitting have splurged in popularity over recent years as a creative way to add a stylish, extraordinaire element to your home space. These products have the power to enhance your ambiance, giving the interior a more elegant and fancy appearance. In fact, there is a throng of benefits of using 3D tiles in your rooms. But before, let's define this beautiful phenomenon in the scene of home design.
What Are 3D Flooring Tiles?
3D tiles are essentially pieces of ceramics, plastic, or glass with a three-dimensional print deposited on them. Ceramic 3D tiles are an exceedingly attractive finish material of a new generation. It can be used for wall cladding or as a floor covering, and everywhere it will look chic, fashionable, and exquisite. Unlike conventional tiles with a thickness of 6-8 mm, the thickness of the tridimensional tiles can be up to two centimeters.
3D tiles are a unique solution for interior decoration as these pieces can optically expand the boundaries of the room, creating the illusion of a parallel space. A distinctive feature of this tile is that the applied print can change upon different viewing angles, creating the effect of movement, dynamics. The image seems to come to life.
A 3D effect is achieved thanks to the unique combination of tile and carbon film. The coating is applied to the tiles using micro-lens technology. The structure of the dimensional coating is created by the application of polycarbonate layers, consisting of the lowest base, a shock-absorbing layer, and a reflective layer where the desired picture is applied.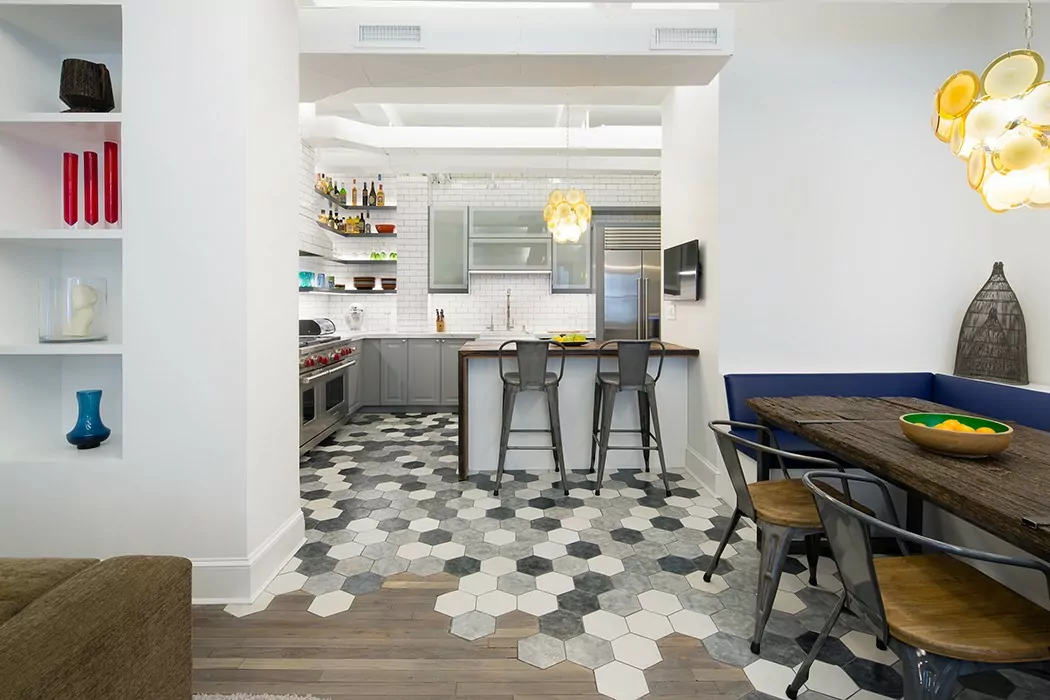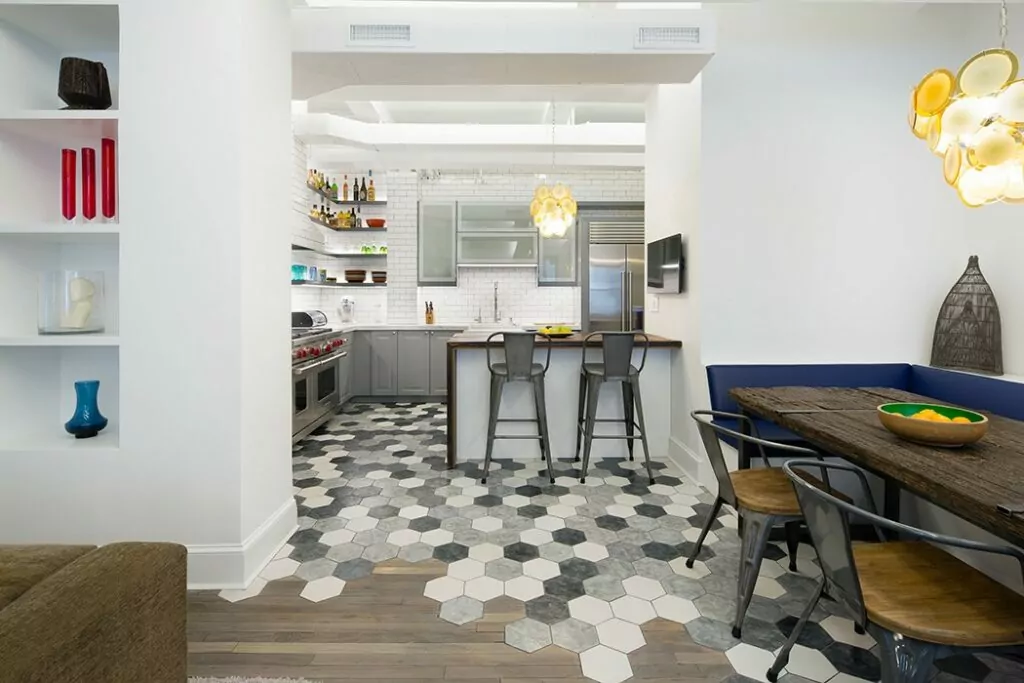 Thanks to such an approach, 3D tiles convey the feeling of a real-life picture that is protected from damage by a shockproof and wear-resistant film. Often, the patterns of 3D tiles are raster or geometric, which helps to create the illusion of depth of the image, parallel to space in the room.
Advantages of committing to 3D tiles:
3D Tiles for Kitchen
A kitchen is the focal point of any home, it is a place where the best people gather together sharing their ideas, dreams, and memories while eating or sipping something delicious. If you want to make a statement in your kitchen, 3D tiles are the way to go. Whether for a backsplash or an accent wall, three-dimensional tiles give a dramatic flair to the whole area.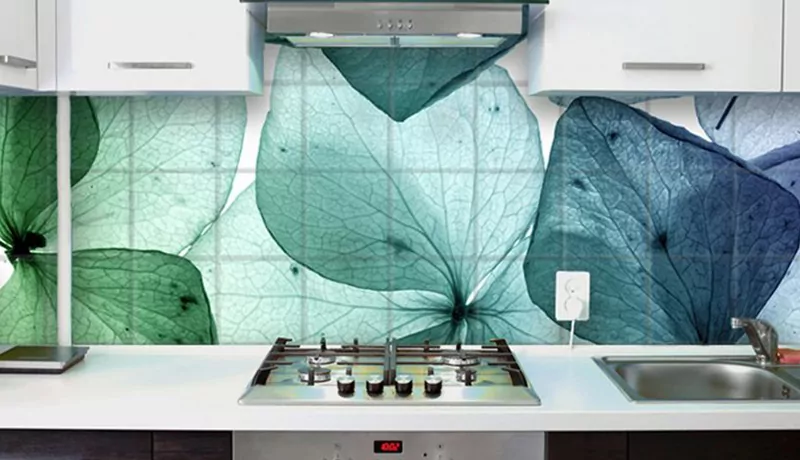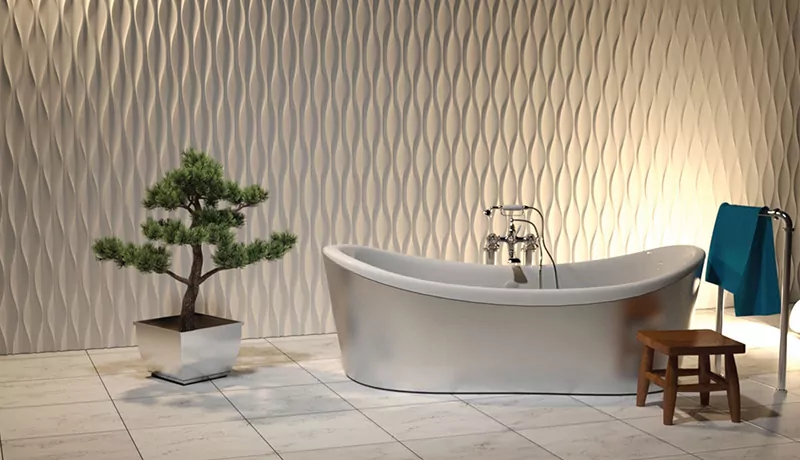 3D Tiles for Bathroom
Three-D tiles can create a glamorous ambiance in a bathroom, shower, or wetroom too. This finishing material allows you to effectively bring depth, character, and dimension to space, making it look harmonious and distinctive. Tiles with a three-dimensional facet also do a wonderful trick in bathrooms with a shower cabin when you want to bring a lovely distinction between a shower stall and vanity areas.

3D Tiles for Bedroom
A bedroom is your sanctuary where you relax after day stresses and where you can let yourself go. This special room must be ultimately comfortable, yet personal and unique, just like you. 3D tiles for the bedroom allow you to create admirable feature walls that will speak volumes about your style, showcasing your creativity.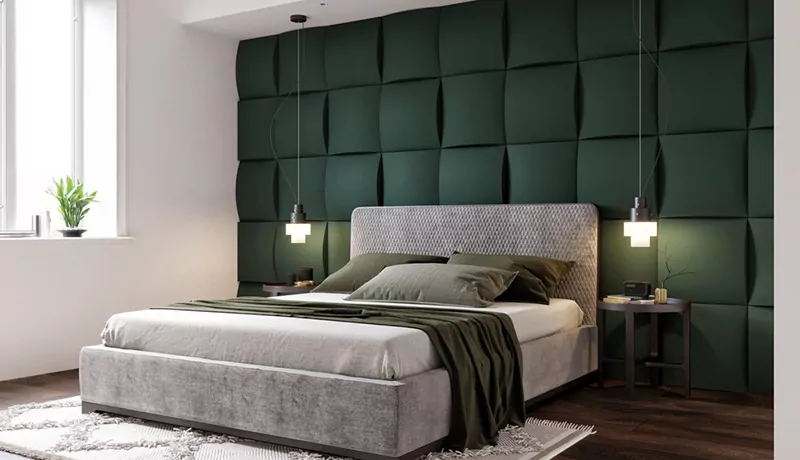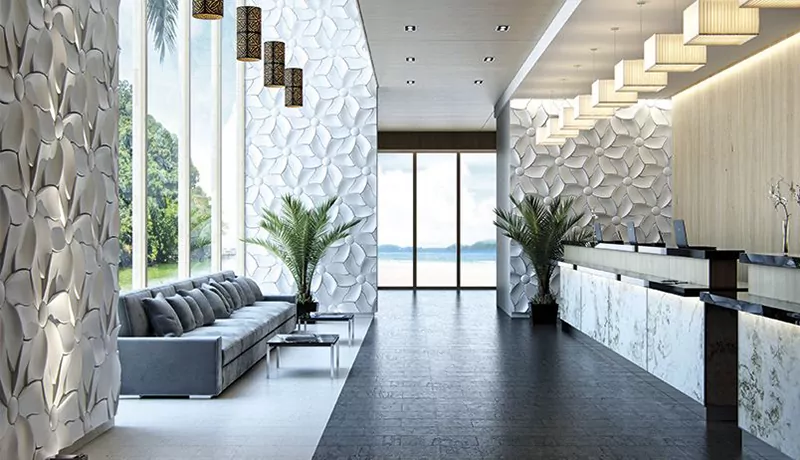 3D Tiles for Living Area
A lounge room, a living area, and even a hall will indeed deliver emotions with a statement wall made of 3D tiles. As the market brims with all possible solutions, with a properly selected product, 3D tiles will lend a posh and classy feel to the interior, making it look utterly glamorous and up-to-date to impress your guests.
Why are 3D Tiles a Hot Trend?
The three-dimension tile design is an increasingly popular fad among homeowners who are renovating their properties. Tiling with surface dynamics, including volumetric folds, wavy ridges, textured geometry, and asymmetrical profiles is taking the world of interior design over, and the reasons are obvious.

Bold Statement
3D tiles are steadily winning hearts all over the globe, pushing manufacturers to produce highly unusual and alluring designs to appeal to every specific preference. While there will always be connoisseurs of conventional tile styles, an increasing number of homeowners and interior designers want to bring a daring visual effect to their spaces– and tiling with dimensional facade does a great job in this respect.

Depth
Even an ordinary room starts feeling different with the use of 3D tiles. Even if you choose neutrally colored tiling, the dimension of the tile facet will provide edges and texture, dramatically prettifying the room's appearance. Using 3D tiles can also be cost-effective because, thanks to the enhanced surface, you do not need a lot of decorative elements to create a cute environment.

Distinction
Three-dimensional tiles work great as a gentle division of space in a room or an imaginative transition from one room into another. Many homeowners and designers choose to utilize 3D tiles to divide limited space into multi-purpose space rather than adding elements that will clutter the room. It can also serve as a fabulous accent in the area.
3D tile designs give homeowners and designers more flexibility when it comes to decorating a signature modern space. With so many different surfaces and patterns to choose from, 3D tiles seem a home renovation trend that will stay for a while. We at Groysman Construction will be happy to assist you in designing your rooms with beautiful 3D tiles in San Diego.