Attics are oftentimes spooky, dusty nooks, containing discarded heirlooms and relics of the past. Generally lacking proper lighting and having an awkward architecture packed with electrical wires, ducts, and pipes, there is something intimidating about attics, making us believe that they are totally dead spaces. But with the right approach, an attic may provide amazing (and most importantly) budget- friendly opportunities for home expansion.
More and more homeowners in San Diego are converting the unused top-floor areas into functional and stylish bathrooms. The idea of having an attic bathroom sounds crazy? While there are certain challenges when it comes to having a bathroom in the attic, if tackled by a licensed and experienced home remodel company like Groysman Construction, a loft bathroom can add serious appeal and value to your property, along with expanding the valuable living space.
Here are some things you need to pay attention to if you want to perform a bathroom remodel. But before we delve into the subject, let's answer the question that has, perhaps, crossed your mind: is it safe to have a bathroom or shower in the attic?
Are Attic Bathrooms Safe?
Bathroom loft conversions are pretty safe provided you have observed all necessary precautions regarding the structural strength and insulation. Typically, attics are not initially designed to accommodate a shower cabin or a full-fledged washroom, so it is in your best interests to ensure the upper floor is strong enough to withstand the pressure of a tub, vanities, basins, and other accessories you are going to install. Sometimes, your rooftop space may not be suitable for an attic bathroom conversion due to height restrictions or the bearing capacity of your trusses or rafters.
For this reason, you may first require consulting your local building authority or approaching professional home constructors in San Diego to evaluate your loft area and say whether it is suitable for holding a bathroom.
While an attic bathroom is quite a trend among San Diego homeowners, bear in mind that an attic bathroom remodel is not a straightforward process compared to converting the loft area into a bedroom or a guest suite.
Still, if you are mindful of certain considerations, such a room addition will surely benefit your entire home.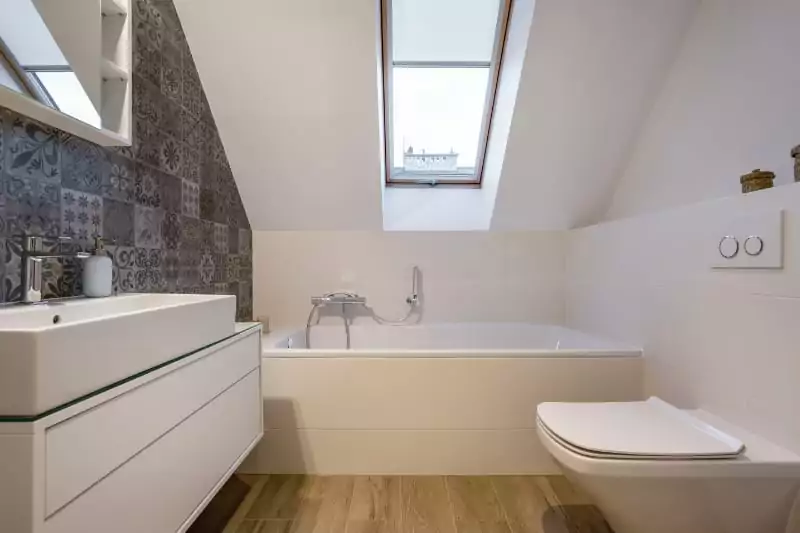 Vital Considerations When Planning an Attic Bathroom Remodel
Obtaining Permissions
You cannot start an attic bathroom remodel in San Diego without securing all necessary permits from the local building authority. Whether you are transforming your loft area into a bedroom, a home office, or a washroom, attic conversions must comply with local building codes and meet the established home security standards. Any type of bathroom remodels in San Diego entails code restrictions and permit applications.
If you do not obtain the right permits, you could end up in serious trouble with your local Council, while your insurer may also refuse to underwrite a home insurance policy for you. Building codes in San Diego may vary depending on your locality, so you should clarify all the details with your local administration before you proceed with an attic remodel. If you decide to hire a reputable home renovation company like Groysman Construction to convert your top space into a bathroom, their managers will generally assist you in getting all necessary permissions from authorities.
Location
It may be hard for you to finalize the placement of your bathroom on the top floor, especially when if you have an unconventional roof with multiple slopes. Attic bathrooms are usually arranged closer to the center of the house because it is often the point where the ceiling reaches its highest level. Still, such an arrangement could make the rest attic space less accessible.
On the flip side, bathrooms located at the edges of your loft may have windows. The only drawback of this layout is the possibility of the roof sloping down to the floor. When thinking over the arrangement of your roof space bathroom, you should also take into account the essential systems of your room, including electrical wiring, plumbing, a water supply system, drainage lines, sewerage, and ventilation.
The ideal variant is to arrange a rooftop bathroom over an existing bathroom or kitchen because it will ensure a shorter distance between new and existing pipes. This can also help to cut costs and minimize the impact on the walls.
Attic Floor Reinforcement
Most attic floors are not designed to continuously sustain unplanned weight. Bathtubs, sinks, shower cabins, and toilets are all heavy bathroom fixtures that create an additional load on the attic floor that initially was not meant to hold such items. Before you add a bathroom to your loft, consider reinforcing your attic's structural support to avoid your span-new tub to crash through the floor the next day.
If you suppose that a full-fledged bathroom with all the comforts and bathing facilities is not what your attic can safely accommodate, a half bath with just a toilet and sink still means your guests will not have to stumble downstairs in the middle of the night.
Proper Insulation
Noise from the attic tends to spread throughout the house. If you do not want your folks to know you are splashing at the moment and hate you for singing that awful tune, consider reducing sound transmission by installing dense blown-in insulation. To achieve the best soundproofing results, contact a professional home remodeler like Groysman Construction.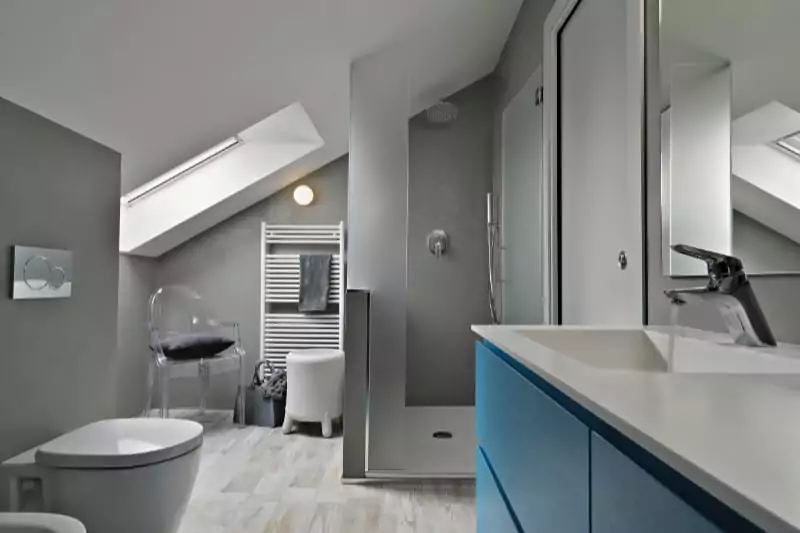 Another major factor in a successful attic bathroom remodel is having decent roof insulation. You know, heat can either rise up the ceiling or escape through leaks or crevices in the attic. This is why the loft space can get very hot in warm months and extremely cold in the cooler seasons.
But radical temperature changes are not what you expect from an attic bathroom. Investing in top floor insulation will ensure an optimal internal climate and energy efficiency.
One of the best options for attics is to insulate the roof with spray foam. It is a cost-effective method to achieve high insulation and fill in cavities in the ceiling.
Additionally, you can install a ceiling fan in the attic bathroom to increase airflow during summer, or an exhaust fan that will remove excess moisture from the room.
Lovely and Cozy Attic Bathrooms in San Diego
A thoroughly planned and properly insulated loft bathroom can provide additional living space and boost the market value of your property. At Groysman Construction, we can remodel your obsolescent attic into a stylish and comfortable bathroom with a beautiful appearance and all modern amenities at a budget-friendly price. We are proud to be one of the best home remodeling companies in San Diego, with more than three decades of stellar performance.
Our well-trained builders and home renovators consistently follow industry-leading practices that comply with federal and local building codes. Home renovations are what we are great at, and surpassing customer expectations is what we are entirely committed to.