In recent years, shower renovation has become one of the most in-demand remodeling projects. The key reasons are easy to explain: reasonable investments result in more comfort for a family and higher home value, let alone aesthetics.
Enjoyable shower experience and visually improved bathroom boost spirits and bring an up-to-date, fresher look to a house. Thoroughly planned and accomplished professionally, renovation can improve bathroom's safety and functionality, making it visually more spacious and inviting.
What Are the Benefits of a New Shower?
A bathroom on par with a kitchen is the most used area at home. No one can deny that it is great to have a spacious new bathroom with trendy fixtures and chic tiling. The pros of renovating a bathroom stretch much further outside the up-to-date look, though.   
1. Improved functionality. Sometimes, we need to adjust a bathroom for our special needs. You might dream about a double-sink vanity unit, a walk-in shower with a handrail, or consider making a kid-friendly bathroom. Renovation helps to elevate an overall look and make it tailored to the specific requirements and needs.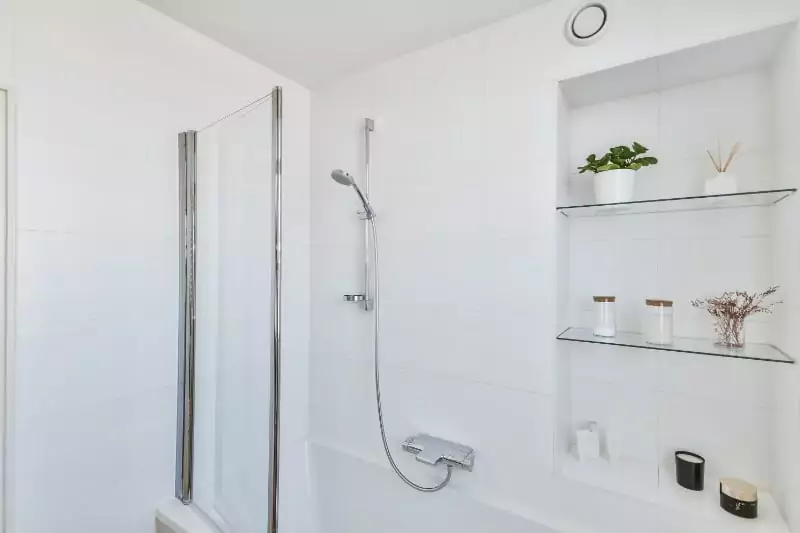 2. Comfort and convenience. It is great to enter a refreshed and contemporary bathroom to get ready for the day or take a refreshing shower after a hard day. It feels awesome in a stylish room with a gorgeous glass door shower. Soothing tiling in natural shades and a comfortable built-in wall niche for shower gel and loofah ensure calming enjoyment and comfort. Let's admit, we all enjoy that luxurious feel of a brand-new bathroom.
3. Higher home value. When would-be buyers check a property they pay special attention to the kitchen and bathroom. Believe it or not, a single shower remodel project can boost the value of your house notably.
4. Improved safety.  Outdated bathrooms can pose a threat to the safety of your family — cracked tiling with sharp edges, uneven or slippery floors, mold spots, etc. Renovation offers an opportunity to reveal and fix potential dangers. You can consider installing guard-rails, anti-slip flooring, etc. Consult a chosen contractor about additional features to make a bathroom safer for all family members.
5. Optimized energy efficiency. If you haven't updated your bathroom for quite a while, you might be surprised by the availability of advanced energy-saving technologies, for instance, low-flow showerheads and toilets and power-saving LEDs. This might be an invisible update but it helps to save notable amounts on monthly bills.
Does Remodeling a Shower Increase Home Value?
The answer is "Definitely!" In 2022, a remodeled bathroom could increase the market value of a house by 53%-58% of investments into the renovation. In some cases, particularly for upscale remodel projects, renovation can recoup up to 70%.
Where remodeling is involved, bathroom updates are among the higher-return renovation projects. A renewed bathroom attracts more offers on a property and can help to increase the value of the house by 10-40% (on average, it is around +20%).
How Much Does a Shower Remodel Cost?
A shower remodel cost varies greatly given the scale of a project, quality of materials, square area, shower type, as well as the condition of a plumbing system. Sometimes you can give a bathroom a new look by changing fixtures, lighting, towel hangers, or cabinet finishing. Or, you opt for a full shower makeover, from top to bottom. Hence, the general bracket is from $250 to $15,000. According to HomeAdvisor, the national average is around $8,000, while typical costs fall into the range of $3,000-$10,000.
For illustration: Your family thinks of a bathroom remodel. Walk-in shower installation costs will be higher than a tub-and-shower remodel or bathtub-to-shower transformation.
| Shower type | Costs |
| --- | --- |
| Tub-and-shower | Around $3,000Around $3,000 |
| Tub-to-shower | From $1,500 to $4,000 |
| Walk-in shower | From $4,000 to $9,000 |
Naturally, costs depend on the footage of the bathroom. Obviously, a shower unit with a smaller footprint will cost less. Keeping in mind that shower tile prices range from $4 to $120/sq.ft., you realize how the price of larger shower remodel increases. Again, the choice of a shower door influences the final price: stock doors cost less than custom-made framed or frameless doors, with the latter being the most expensive because they are produced from special tempered glass.
With over 20+ years in the market, the Groysman team is proud of its portfolio: we've completed multiple projects of all levels of complexity across San Diego County, from minor updates to full bathroom makeovers with custom-tailored shower units. Glance over our portfolio of completed projects for inspiration and call us to get a free quote.