Modern lifestyle dictates its own terms: quite often we have to streamline and accelerate our daily routine. Families with small kids might want to keep a bath, particularly if they have a single-bathroom home. However, young adults, elderly couples, and people with limited mobility more and more often give preference to walk-in showers. Spacious and sleek-looking, an easy-to-enter shower is an attractive choice for a bathroom remodel.
Does it make sense to swap a bathtub for a shower? How much does a shower remodel cost? How to find contractors for a tub-to-shower conversion near me? All answers you will find below.
How much does converting a bathtub to a shower cost?
Generally, the cost of converting a bathtub to a shower varies from $1,200 to $8,000 with the national average of around $3,000. The actual cost depends on piping accessibility, shower type, installation complexity, fixtures, and so on. Main cost factors include tub size, tub removal, materials, official permits, and repair parts.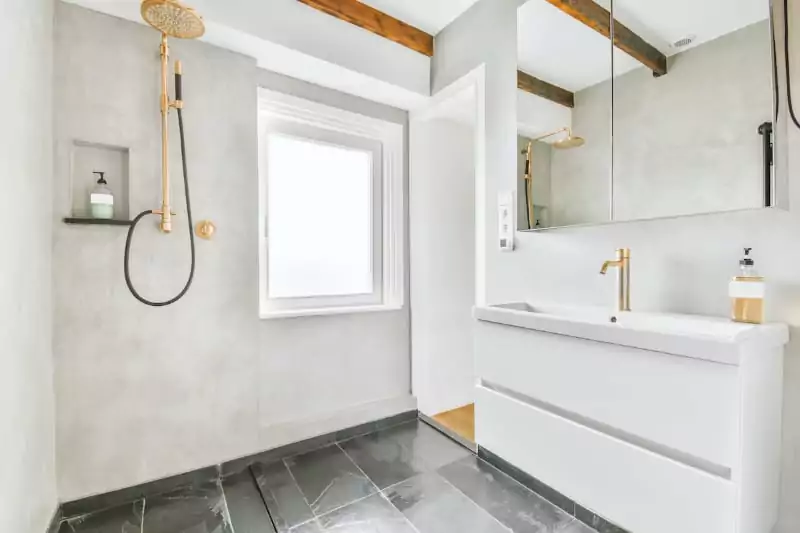 Shower stall, walk-in shower, tile shower, and curbless shower – options are almost unlimited and depend on your preferences and special requirements. You can make it simple with a shower curtain, or opt for a shower panel or door: framed doors are less expensive and provide additional support (preferable for kids and pets), while frameless doors have sleek designs but are a bit more expensive. Add here accessories: dimmable led lights and heated towel racks. These and some other luxurious add-ons may significantly increase the tub-to-shower conversion cost.
Most reputable contractors offer free in-situ estimation. Why is it important? Because factors you may consider insignificant, such as lighting, windows, fans, and plumbing connections, can impact the scope of work and total costs.
The good news is that you can cut costs, for example, by choosing a shower pan instead of tiles and standard-sized shower doors that are less expensive than custom-made solutions. In any case, a trustworthy contractor can recommend the optimal solution for your needs and budget.
What aspects to consider before converting a tub to a shower?
A tub-to-shower conversion in small bathrooms can save space and make them look visually appealing and roomy. Homeowners decide to switch to a shower for various reasons:
a bathtub needs replacement,
a bathroom is too tight,
a family member needs more convenience and an easy-to-access shower.
Hire pros. A tub-to-shower remodel project is a complex task that often requires changes in plumbing and electrical wires apart from the installation of a shower unit itself. In some states, you need to get permission for this type of remodeling. Thus, you'd better put out of your head DIY solutions from YouTube and go with professionals to streamline both technical and documentary sides of the project.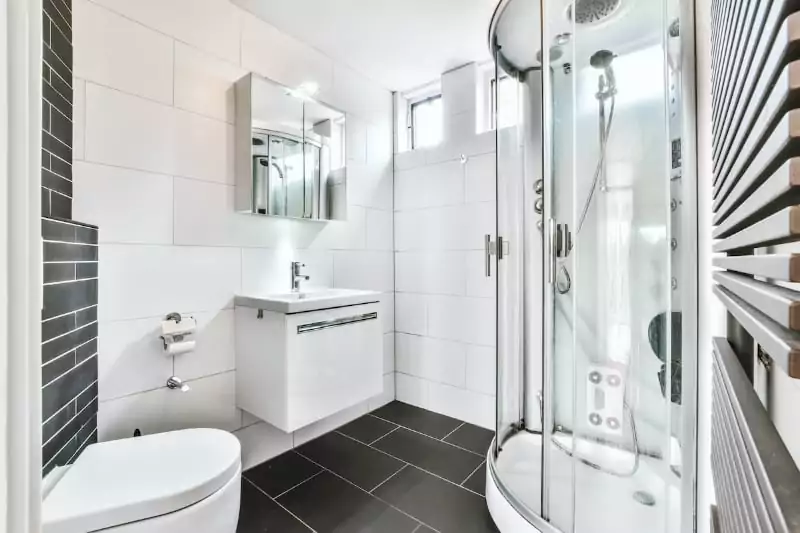 Shower doors. While planning the bathroom transformation, consider the type of door you want to install. Smaller bathrooms might have no space for a swing-open door, so you can opt for a shower curtain, a glass/acrylic panel, or a sliding door. The type of splash protection influences both appearance and cost.
Comfort and functionality. You may consider building a shower seat, rails to grab, and a built-in shelf for personal care products. Small elements can significantly improve the shower experience for elderly people and family members with limited mobility.
How long does a tub-to-shower conversion take?
On average, a tub-to-shower conversion takes from a couple of days to a week or ten days. Some bathroom shower remodel projects can take longer, though.
Obviously, building a custom-designed shower unit requires more time than the installation of a standard-size shower unit.
When you hire a contractor, pros will estimate the scope of work and time they need to complete the project. Experienced pros are well aware of the inconvenience that remodeling works can bring to your family, so they develop a detailed plan and stick to it.
Note: Keep in mind that a contractor can face unforeseen issues, for example, a leaky pipe or mold growth behind the wall that require additional work and time.
Is it a good idea to convert a tub to a shower?
Generally, yes. If you have small kids or you like to take a relaxing bath occasionally, you'd better keep a bathtub at least in one of the bathrooms. On the other hand, a bathtub-to-shower conversion in one of the bathrooms might be a great idea for those who want to save time and have a chance to take a quick shower every now and then without wasting time filling the bath and drying the floor after bathing. So if you have one bathroom with a tub, you can plan a tub-to-shower conversion in the second bathroom with no hesitation.
Most people opt for a bathtub-to-shower conversion because of convenience, easier maintenance, and safety. Additionally, a shower can be a space-saving solution for smaller bathrooms.
Groysman Construction is one of the renowned remodel companies serving San Diego County. We have an extensive portfolio of bathroom remodeling projects of various styles, complexity, and budget and many happy customers. So, if you've been searching for 'tub to shower conversion companies near me', do not hesitate to request a free quote — the team will estimate the scope of work and soon you will enjoy the renovated bathroom.