When it comes to bathroom remodeling, one of the key aspects is ensuring that the materials you incorporate can effectively withstand the trial of excessive humidity, continuous temperature changes, and hot steam. Mold and mildew can also be a thorn in your side, so bathroom ceiling materials should keep pesky fungi at bay. Groysman Construction, your go-to home renovation contractor in San Diego, runs through the best bathroom ceiling ideas and materials to safeguard and maintain the aesthetics and functionality of your bathroom. 
Drywall & Greenboard
You can use regular drywall to outfit ceilings above bathroom areas where there is no shower or tub. However, for the space where the shower/tub stands, it is better to choose moisture-resistant drywall called greenboard. Moisture-proof greenboard is similar to regular drywall, but it also features surface paper that has been specially treated for extra resistance to moisture and mold. Some manufacturers also strengthen the gypsum core of their greenboard for greater protection against water damage.
If it is more convenient for you to use a damp-proof greenboard for the bathroom ceiling, then this alone may lead to additional expenses because greenboard is more expensive than conventional drywall, but installation and finishing procedures are pretty much the same. 
Greenboard bathroom materials are not necessarily green. Instead, modern moisture-resistant drywall is available in various colors to complement your specific bathroom ceiling ideas and the room's overall style. Greenboard drywall bathroom ceiling materials are sold under different brand names, so be sure to read the fine print to get a product with the characteristics you need.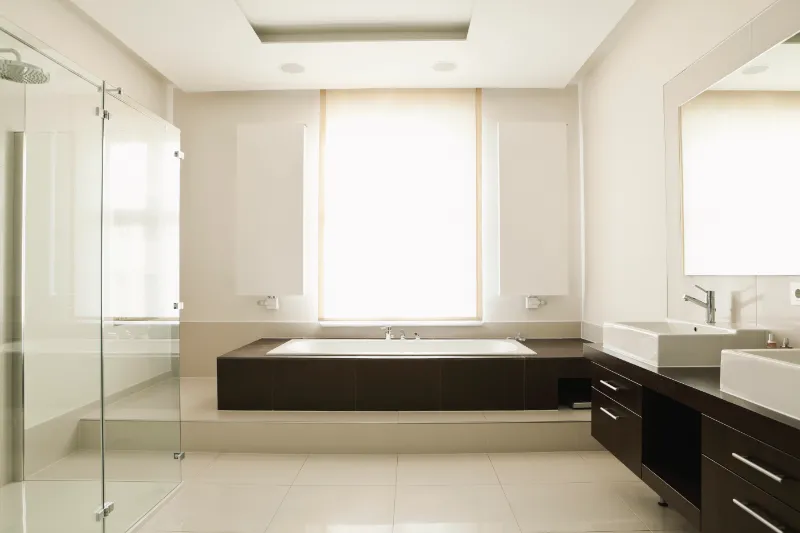 When using drywall as a bathroom outfitting material, one of the biggest problems is damage caused by floating steam that condenses as water drops on the surface. Therefore, it is better to cover the drywall with a layer of paint.
But the question is "What kind of paint can you safely use for the ceiling in your bathroom?"
To waterproof the ceiling in the bathroom, it is recommended to choose waterproof paints such as semi-gloss or satin paint. Semi-gloss paint is a brilliant option that provides extreme moisture resistance. However, since it gives off some glare, it can make imperfections in the bathroom ceiling more visible. If so, you can choose the satin option.
Cement board
One of the best bathroom ceiling materials, cement board makes a smart choice to be used in damp areas that you want to outfit with tiling. It is a very durable and appropriate cover for such remodel projects.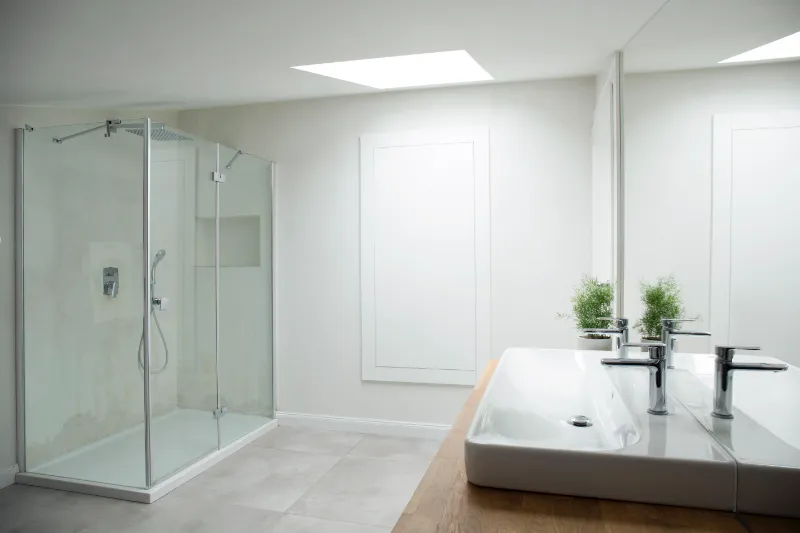 Tiles are well known for their waterproof qualities, but they are not totally waterproof as they may seep through cracks. This may result in the fact that moisture penetrates into the tile and deeps into its foundation layer. Therefore, cement boards are excellent to be employed as a backing material to avoid tile seepage. 
When you install cement boards as a substrate material, they will not get compromised by humidity. As an additional protective measure, you can cover the frame behind the cement boards with a damp-proof material such as plastic sheets.
Tiles
Tiling is a timeless bathroom ceiling material that couples elegant aesthetics with robust performance properties. Along with looking nice and being available in a diversity of styles to match different tastes and budgets, tiles also offer some tangible benefits for homeowners, including fairly easy installation, water resistance, and easy cleaning. The market also brims with available tile materials including ceramic, marble, granite, and porcelain, among other varieties. 
When installed with ultimate professionalism (like we always do in our Groysman Construction home remodeling company in San Diego), tiles will dramatically transform your bathroom, making it look great and adding value to your property.
For the best results, it is critical to ensure that all joints are thoroughly sealed with some water-repellent substance. This will ensure that the bathroom ceiling is well protected and does not give any chance to seepage. Be sure to install a solid, waterproof underlying behind the tiles in your bathroom. For instance, you may consider polyethylene membranes such as KERDI. Such waterproofing membranes and vapor-retarders are designed to be applied directly on tiles to inhibit moisture from seeping into the bathroom ceiling through gaps between tiles and stones.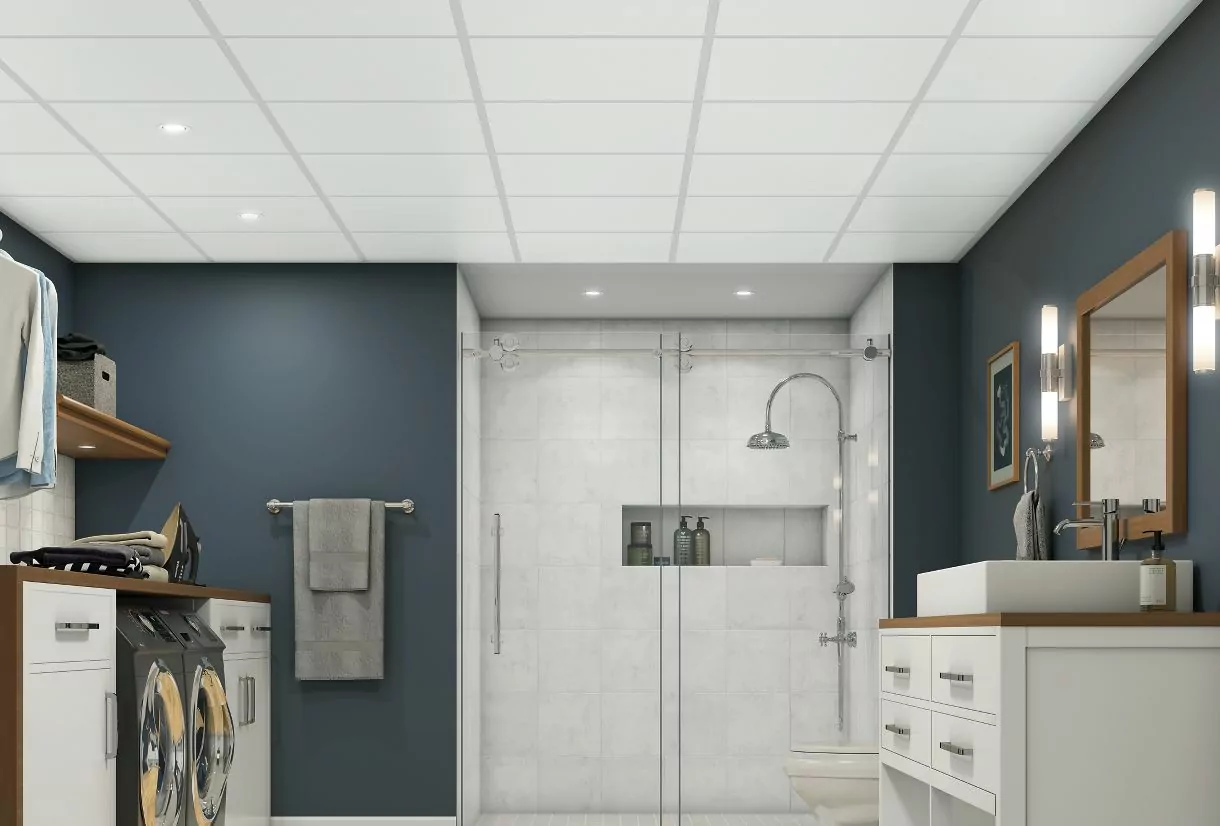 Another variant is to apply a thin layer of mortar or plaster over the tiling during the installation process. You can also use the greenboard as a foundation under the tiles. Backing the tiles is highly important during bathroom remodeling. It helps to ensure that your bathroom's lower ceiling is not prone to sagging, mold development, or other nasty water-related harms.
Acrylic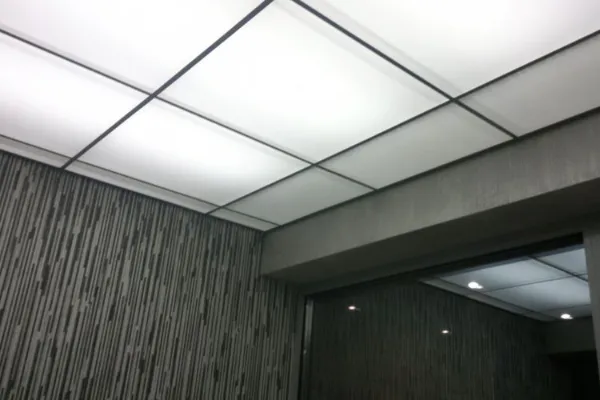 Acrylic nature is fiber where sheets are produced from resin. Acrylic has become one of the most desirable bathroom ceiling materials in recent times among many San Diego homeowners. This bathroom furnishing material comes in a broad range of designs and shades. It is also possible to order a custom acrylic design to fulfil your specific bathroom remodel concept. Acrylic sheets can even be transparent, patterned, and opaque. 
The final characteristics of the acrylic bathroom ceiling material will be based on the general style of your bathroom and your particular taste so that you can easily achieve the ceiling of your dreams. It is also worth mentioning that acrylic panels are very lightweight, meaning they can be effortlessly removed and retracted if some maintenance or repair is needed.
Fiberglass
Fiberglass is a very popular bathroom ceiling material because it is gorgeous, waterproof, and quite inexpensive. Fiberglass can lend a very sophisticated appearance to the bathroom, from its floor and up to the ceiling.
Installing fiberglass is also mess-free as the process does not require specific technical skills, making fiberglass a common choice for DIY bathroom renovations. Fiberglass will provide you with vital protection against water and mold damage for a long period. So now you can shower without worrying about the hot steam rising to the bathroom ceiling as the material handles it easily.
If you are looking for a reliable, visually pleasing bathroom ceiling material, then drywall/greenboard, acrylic, tiles, cement boards, and fiberglass deserve your first consideration. These materials can be embraced to give your bathroom ceiling a polished, contemporary, and sophisticated look. In addition, their price tags are not scary, so even the homeowner with a tight bathroom remodel budget can easily afford them.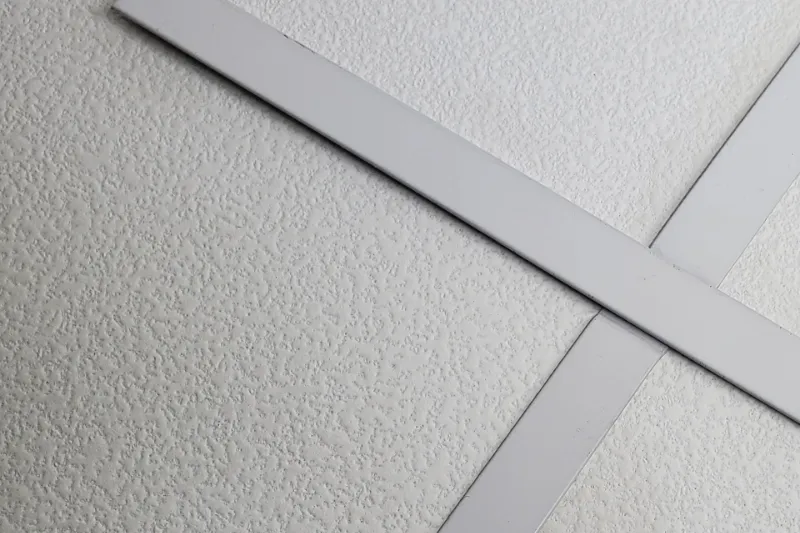 We hope this article has helped to empower your decision about the best materials for your bathroom ceiling. If you still hesitate about which material to pick for your bathroom ceiling, consider talking to experts such as Groysman Construction in San Diego. We are highly experienced in bathroom renovations and all related affairs. We will be happy to help you choose the right outfitting material for your bathroom ceiling while making sure that your wishes and requirements are given the highest priority.