An epitome of stylish simplicity, a single-wall kitchen layout endears itself to many homeowners in San Diego. People eagerly gravitate toward this arrangement concept and install it not only in urban apartments and condominiums where a single-wall kitchen seems a logical solution but in residential houses alike. Since such a kitchen takes up only one wall, you have more space to move around. It also greatly complements an open-floor plan where a cooking area seamlessly transits into a living or dining room.
With a one-wall kitchen layout, you have all the cabinetry, worktops, and appliances arranged along a single wall, so that you avoid a situation when major work zones are too spread out. This linear layout helps to save space without decreasing the functionality of your kitchen.
A single-wall kitchen style is also a cost-effective choice because you will not have to shell out on lots of materials, while the installation process is also much easier and quicker compared to other arrangements. Finally, thanks to its simple design, a single-wall kitchen is very easy to take care of.
If you are planning to remodel your kitchen in San Diego, and a single-wall kitchen layout is on top of your considerations, take advantage of these handy tips for how to make the most of such a kitchen configuration. Groysman Construction is always here to help you bring your home renovation dreams to reality.
Tips for Arranging a One-Wall Kitchen
While designing a single-wall kitchen layout is quite an easy feat, there are a few nuances to keep in mind for the best possible results. Designers from Groysman Constructions recommend putting the sink between the cooktop and the refrigerator, so it will create a more efficient workflow where everything is within easy reach.
Such a placement helps you to observe a golden rule of keeping hot and cold areas separate since your fridge needs space to dissipate heat.
A dishwasher is best to be positioned next to the sink so that your cleaning workflow will be maximally streamlined. Here are more bits of sage advice from Groysman Construction experts to help you benefit from a single-wall kitchen.
Adding an Island Makes a World of Difference


One-wall kitchen designs are often blamed for not providing enough prep space. This problem can easily be solved by adding an island parallel to the kitchen range. An island will introduce an additional working surface and storage, and you can also install an extra appliance in it, such as a microwave or a sink.
A one-wall kitchen with an island lets you achieve the perfect workflow triangle in your kitchen, so you can easily maneuver along the main working zones. Alternatively, you can arrange a seating area around the island, so your guests and household members will have more space to socialize.
Delineate the Kitchen with a Table


Incorporating an island into a one-wall kitchen may not be always possible because of the limited dimensions of the room, or because an island will break up an open floor plan where single-wall kitchens are commonly found. For such situations, you may consider introducing a dining table that will enhance the functionality of the kitchen, yet without disrupting an open space concept.
Along with offering an additional worktop, a table may serve as a distinction between the kitchen and dining room, making both look like two separate areas. This effect can also be achieved by positioning a breakfast bar with a couple of stools. A modern, unique table or breakfast bar can become the kitchen's focal point, making a bold statement.
Full-Wall Cabinetry Will Max Out Storage Opportunities


Efficient storage is not the strongest aspect of most single-wall kitchen styles, but you still can have your things effectively organized in such a layout. For instance, you can add full-wall cabinetry or a cupboard for more storage possibilities. You can also unleash your creativity and hang your most-used pots and pans on a hanger above the island or on an empty spot on the wall.
If you want to utilize every free inch of a one-wall kitchen, you can consider installing bridged upper cabinets. Such cabinets are generally placed on top of the tall cabinets that bookend the kitchen range on either side, thus, connecting both units. If you choose to make the bridged upper cabinets a little more protruding than the rest cabinetry, this will add stylish depth and produce a sunken effect, so that your one-wall kitchen will look as if framed.
Try Mixed Shelving

You may not want a row of cabinets to stretch the entire length of the wall, because, in terms of design, you will find that it is against your aesthetic preferences. Do not be afraid – even in this case, you still can have a fully functional single-wall kitchen with plenty of storage! Consider mixing in some open shelves or installing shelving on the wall to the right or left side of the kitchen, so you can showcase decorative items and conceal the everyday mess.
Tap the Power of Under-Cabinet Lights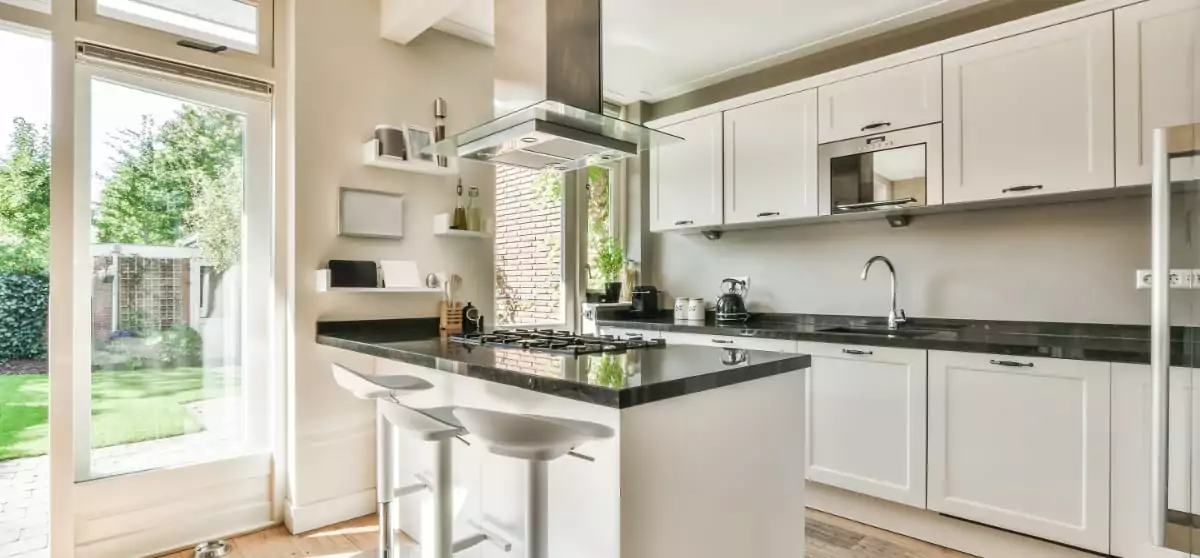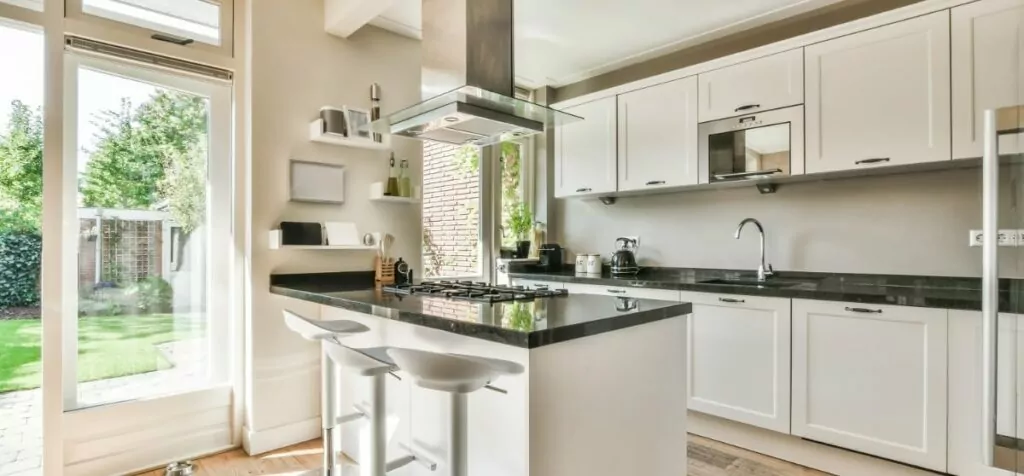 Give your one-wall kitchen an ultimate modern twist by incorporating lovely pendant lamps and under cabinet lighting. Because single-wall kitchen formats tend to present a long string of units, you can also consider having a track lighting system that spans the length of the entire kitchen range. Track lights consist of directional lamps that may be adjusted to anywhere you direct focused illumination at the moment, be it a specific counter or work zone, or the dining room if it stems from the one-wall kitchen.
Pick Appropriate Appliances


Choosing appliances for a single-wall kitchen should not be a thorn in your side, and you should never deny yourself the hardware you need to feel comfortable in your linear kitchen. Lucky for you, appliance manufacturers design solutions for one-wall kitchens too. There are many size-effective dishwashers, compact cook units, and fridges that do not take up much square footage and can easily fit the smallest of one-wall kitchens. Note, if you have an open floor plan, make sure the chosen appliances do not produce much noise and do not irritate those who are watching TV or reading in the areas that adjust to the single-room kitchen.
Turn it into the Home's Highlight


With an open-floor living plan, a one-wall kitchen can be seen from other parts of the home. So, you should try to either convert it into the home's main attraction or make your kitchen blend well with other design options in the space. Simple cabinetry and plain countertops may not catch an eye, but a vivid tile backsplash can add a pop of color and visual interest. On the flip side, brightly colored cabinets can create a feeling of an artwork to be admired from the far end of the living room.
Whatever scenario you choose, try to avoid the interior being overwhelmed with too many conflicting styles or colors. For the best results, you can apply to professionals to help you with arranging a one-wall kitchen.
If you live in a small home and appreciate an open-floor concept, a single-wall kitchen layout might be your best bet. Consult a reputable remodeling company in San Diego, such as Groysman Construction, to help you design a perfect single-wall kitchen that will complement your lifestyle and enhance your overall home.